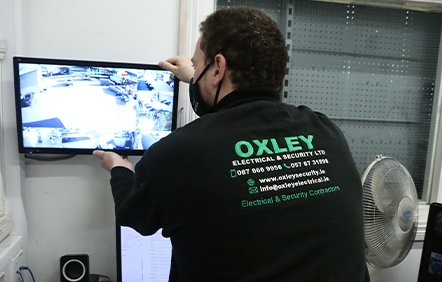 St Joseph's National School
Name: St Joseph's National School.
Address: Corville, Roscrea, Co. Tipperary.
Corville NS is a large 30-roomed Primary School situated close to a housing estate on the outskirts of Roscrea Town. It is surrounded by playing pitches, out buildings and concrete yards.
Their old analogue system was not working efficiently, and we were asked to replace it with an IP system consisting of 12 external cameras, and four internal cameras all equipped with night vision.
Details of Contract Management
Oxley Systems & Services Ltd was the main contractor, undertaking the design and installation work for this contract. Our contract manager, John Oxley, was the primary liaison for St Joseph's National School, managing all aspects of the contract, including site work.
The contract was managed using our four-step approach:
John undertook an initial site assessment, to identify issues and potential improvements (e.g. siting a camera on the roof) and additional potential options. He then designed a proposed solution and provided the client with an itemised quotation.
John took the client through the various options, and agreed the final system specification and contract with them. He ordered the system components and agreed an installation date with the client.
Potential risks to our team, the client's employees and other site visitors were identified by John as part for the initial site visit. A risk assessment was undertaken, and method statements and a health and safety plan prepared (including PPE and required equipment).
On the installation day, John led our site team. The team were taken through the method statement and plan. PPE and safety equipment were checked.
John liaised with the St Joseph's School principal to secure the work areas and brief the client's staff on safety protocols.
Installation followed the plan, and was completed over five days.
Certificates of completion and system details were provided to the client for inclusion in the building file (O&M manual).
John developed a comprehensive test plan to ensure all installed equipment was working, that the management software was properly configured, and that there were no gaps in coverage.
John undertook user training with client staff, and provided user documentation to the client.
Ongoing maintenance, visits are undertaken by John (the contract manager) to an agreed SLA.
Before each visit an inspection plan is prepared, an associated risk assessment and method statement is prepared.

After the inspection, a detailed report of the activities undertaken and repairs, confirmation that system is performing as expected.

We discuss potential enhancements alterations with the client to facilitate changes to the site since previous visits.
We provide a reactive service for any maintenance/repair issues that arise. We provide an ongoing maintenance service consisting of two maintenance visits a year, with a comprehensive report on activities undertaken and issues found. We also provide training to system users. Maintenance undertaken includes:
Camera, POE, NVR etc. cleaning, checks and maintenance.

Diagnostic/event logs reviews and software upgrades.

Recording system and archive inspection, upgrades and adjustments.

UPS equipment inspection (including battery testing).
Delivery Date: 12/3/2017.
Delivery Completion: 100%.
No. of Locations involved: One.
What we do
We offer a broad range of electric gates, fire alarms, intruder alarms, CCTV installation, and more to help our clients feel secure at all times. Oxley Electrical & Security LTD provide you with the solutions you need to keep your business safe and secure. We ensure you the highest quality equipment and the professional installation process.
Testimonials
We had our Home security system installed May 2020. From initial consultation to customer service and support, we can not fault this company at all. Professional service. Highly recommend.
Had spotlights installed recently, highly professional, no hesitation Recommending

All electric work in cctv and alarms insulation
John called to our house this evening and was very polite, courteous and professional. He fixed the problems with our alarm system, gave the system a once over and took the time to explain the alarm system to us. A very professional service and based on there recent visit to us we would highly recommend Oxley Electrical & Security LTD.