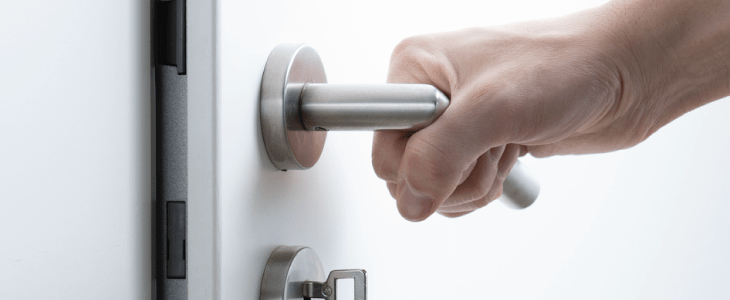 How to Secure Your Home
Don't make a burglar's job easier – 34% go through the front doors. Check all of your doors to make sure they are always locked and if your door contains a mail slot, ensure there is no reachable way to unlock the door.
Always change door locks when moving into new premises previously owned, this way no one else can have a copy of your house keys.
Premises that are lightened up can assist you in the security of your home. Having lights placed at your front doors and backdoors for any outdoor structures will help deter criminal activity. Intruders are likely not to target where there is efficient light as they don't like the spotlight.
A brand new home should always have a form of security installed, whether it's a basic DIY system or professional monitoring. These days there are many security system options available for every budget and every measure of protection.
You have most definitely heard of intruders or burglars getting caught because of CCTV evidence. Having CCTV installed provides many benefits such as deterring criminal activity and remote monitoring. Modern CCTV has remote monitoring on devices such as tablets or mobile phones, so you can always monitor your home when you are away.
During the gardening and DIY season, many people are prone to leaving their tools and equipment lying around after they finish their day's work. Leaving valuable equipment in open areas can catch a burglar's eye, but also your equipment could be used in the forced entry of your home.
Want even more ideas on how to keep your home safe? Check out our security offerings or contact us to learn how we can assist you in making your home even safer.
What we do
We offer a broad range of electric gates, fire alarms, intruder alarms, CCTV installation, and more to help our clients feel secure at all times. Oxley Electrical & Security LTD provide you with the solutions you need to keep your business safe and secure. We ensure you the highest quality equipment and the professional installation process.
Testimonials
We had our Home security system installed May 2020. From initial consultation to customer service and support, we can not fault this company at all. Professional service. Highly recommend.
Had spotlights installed recently, highly professional, no hesitation Recommending

All electric work in cctv and alarms insulation
John called to our house this evening and was very polite, courteous and professional. He fixed the problems with our alarm system, gave the system a once over and took the time to explain the alarm system to us. A very professional service and based on there recent visit to us we would highly recommend Oxley Electrical & Security LTD.